All Me, All The Time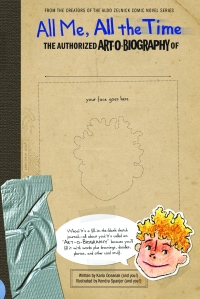 Now Available!
Softcover
DIY journal
For readers, writers, and drawers 6 & up
80 pages
ISBN 978-1-934649-20-6
$7.95
Buy this book
Download an excerpt
Review on Goodreads
With this fill-in-the-blank-style journal from the creators of the Aldo Zelnick comic novel series, kids will find it effortlessly fun to tell their own life stories. The "art-o-biography" format encourages both drawing and writing and gives mini-lessons on things such as shading sketches and choosing zingy verbs. Parents will enjoy reading their kids' completed book, and children will love being the author and illustrator of an entire book all about themselves.
---