Artsy Fartsy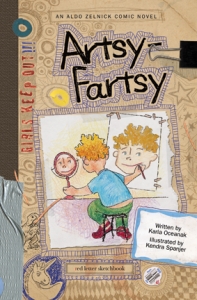 Hardcover • Illustrated chapter book
Published December 2009
For readers 7-13
AR reading level: 3.8; Guided reading level: R
160 pages
ISBN 978-1-934649-04-6
$12.95
• Winner, Colorado Book Award for Juvenile Fiction 2010
• Book of the Year Bronze Award for Juvenile Fiction 2009
• Mountains & Plains Booksellers Assoc. Regional Book Award Winner for Children's Chapater Book 2010
• Next Generation Indie Book Award Finalist 2010
• Creative Child magazine Seal of Excellence 2010
Buy this book
Download an excerpt
Review on Goodreads
Ten-year-old Aldo lives with his family in Colorado. He's not athletic like his older brother, he's not a rock hound like his best friend, but he does like bacon. And when his artistic grandmother, Goosy, gives him a sketchbook to "record all his artsy-fartsy ideas" during summer vacation, it turns out Aldo is a pretty good cartoonist.
In addition to an engaging cartoon story, Artsy-Fartsy includes an illustrated glossary of fun A words used throughout the book, such as absurd, abominable, and audacious.

Artsy-Fartsy's cover shows Aldo sketching a self-portrait a la Norman Rockwell. Fortunately Aldo chose to forego the pipe.
---
"I would like to thank you for bringing such enjoyment to Emma's reading. We read together every night, and up until now she has waited for me, but with Aldo, she reads every spare moment and then 'apologizes' for reading ahead before filling me in on every detail I've missed since we last read together. Makes a mama's heart sing!" — Stacy O.
"Artsy-Fartsy is the funniest book I have ever read. The illustrations are hilarious. It is better than Diary of a Wimpy Kid." — Tavis
"We got Artsy-Fartsy last week and my son (who thinks he has better things to do than read) has not put it down since. He devoured the Wimpy Kid books but said he likes Artsy-Fartsy better because it's funnier. I like it better because it makes kids think. It's fun to hear giggles coming from the family room and my son is NOT watching TV." - C. Maguire
"I can't rave enough about Artsy-Fartsy. I admit that I had my doubts when I learned that the word 'fartsy' was in the title. I was worried that the book might have potty humor (not that young boys wouldn't love that), but I am thrilled to say that this book was very clean and appropriate for kids of all ages. Artsy-Fartsy has a little bit of everything...fun pictures, interesting storyline, a little mystery, and memorable characters. And it also has a something that will appeal to parents—a good message. Oh yeah, and the book is also educational in that it teaches new words and even has a glossary in the back. As a mom, I really can't ask for much more from a middle grade novel." — Julie Peterson, Booking Mama children's lit blogger
"This is a book that definitely speaks 'kid speak.' The first installment in an A-to-Z alphabet series, Artsy-Fartsy is perfect for reluctant readers. It's fun for kids and will be appreciated by parents and teachers for the amusing 'back door' approach to enriching vocabulary. Look out Wimpy Kid!" — Stacy Morris, Katy Budget Books, Houston, TX
"My daughter and I have been reading your book Artsy Fartsy and have been enjoying every page! Natalie received the book for Christmas from a friend, and we decided to read it for a mother-daughter book club we are in since it is our turn to pick a book. All of the other moms and daughters in our club are in love with your book as well." — Kim H.