Bogus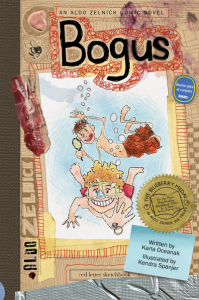 Hardcover • Illustrated chapter book
Published June 2010
For readers 7-13
AR reading level: 4.0; Guided reading level: R
160 pages
ISBN 978-1-934649-06-0
$12.95
• Independent Publisher "IPPY" Silver Award 2011
• Creative Child magazine Seal of Excellence 2011
• CYBIL nomination 2011
Buy this book
Download and excerpt
Review on Goodreads
Ten-year-old Aldo has decided it's OK to be a little artsy-fartsy. So when his grandma Goosy gives Aldo a second sketchbook, he fills it with more hand-drawn comics, rock-candy, B words, and accounts of his everyday adventures.
Aldo and his best friend, Jack, find a diamond ring, which Aldo thinks is bogus—even though Jack—the rock hound!—is sure it's real. Aldo loses then finds then loses the ring again, and bedlam ensues. Where will the ring turn up, and who will reap the rewards?
In addition to an engaging cartoon story, Bogus includes an illustrated glossary of fun B words used throughout the book, such as berserk, bona fide and buzzkill.
---
"Bogus is just as fantastic as Artsy-Fartsy. The humor and creativity is amazing and my son LOVES this series about Aldo. We are all looking forward to the next books. Keep them coming!" — C. Maguire
"The latest installment of the Aldo Zelnick series is just as good, if not better than the first. A perfect blend of entertainment and education. Karla Oceanak and Kendra Spanjer have shown again that they know exactly how to reach kids in that often, awkward time of life between being a 'kid' and a teenager. Aldo is hilarious, but absolutely real, a kid you could almost imagine walking through your front door at any minute. His struggle to be active is something that almost every kid who reads this will be able to relate to. Aldo is not a character you quickly forget and you'll definitely be left wanting more when you're done with this latest installment." — Danielle Smith, There's a Book review blog
"My 8 year old son loves this series. I love that I hear him using the new vocabulary words from the book in his everyday speech." — an amazon.com reviewer
"In Bogus, Aldo (somewhat reluctantly and very realistically) learns to put the needs of others before his desire for a giant flat screen TV. In book three, Cahoots, (out later this year) it sounds like Aldo is up for some more character-building when he has to spend time on his cousins' farm with no technology and lots of chores! My fourth graders last year LOVED Artsy-Fartsy and were disappointed that Bogus would come out after they'd left my class. This new group is going to have two books in the series to devour and a third to look forward to by the end of the year!" – Mary Lee Hahn, A Year of Reading blog
"Bogus, an Aldo Zelnick Comic Novel" is the second graphic novel for kids age 7-13 featuring the irrepressible Aldo Zelnick, kid detective and linguist extraordinaire. "Bogus" is the B- letter book, incorporating as many vocabulary words beginning with "B" as possible. In "Bogus," Aldo learns lots about philanthropy, another famous comic book artist (Charles Schulz), and the importance of remembering we are all citizens of a global village. Even finding a valuable lost ring and receiving a, $1,000 reward are not as important as banding together and working and caring about other people who need help. Aldo Zelnick is a great hero for kids because he is exactly that, another believable kid. Pretty wonderful when you stop to examine him after all. The comic illustrations keep the pages turning as does the fast-moving story. Kids will love to collect all the letters of the alphabet as discovered by Aldo Zelnick." — Midwest Book Review
"I teach 4th- and 5th-grade reading and think the new Aldo Zelnick comic novel series is funny and smart, as do many of my students. I've also heard positive reviews from other teachers whose students are enjoying this book. From my experience, I know that students from second through fifth grade and reluctant to voracious readers are all enjoying Bogus. There is so much to recommend Bogus, from Aldo's quirky charm to the adventure-filled plot to the appealing illustrations. The vocabulary and moral are just icing on the cake - but buttercream, without artificial flavors to make them unappetizing. Aldo is a realistic ten-year-old boy whose charm often lies in his lack of perfection. Most of us can relate to a character who would rather eat home-baked goodies and buy himself treats than exercise and donate his money to charity. It is hard to be good. The illustrations are every bit as appealing and essential as the text. They do more than complement the text; they add another layer of meaning. The characters' expressions, especially, are priceless. Last, the vocabulary in the Aldo books is truly fun because the words, which are in a glossary, are defined by Aldo. Do yourself or a child you love a favor and buy a copy of Bogus - especially if that child ever read and enjoyed Captain Underpants, Ricky Ricotta, Wimpy Kid, Big Nate, or any other comic novel series. Aldo is a more positive character than these, yet the stories, characters, and illustrations will engage children just as much if not more." — Beth Knees