Cahoots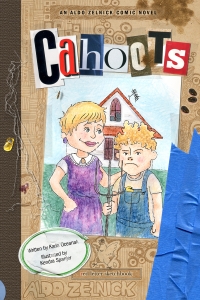 Hardcover • Illustrated chapter book
Published May 2011
For readers 7-13
AR reading level: 4.1; Guided reading level: R
160 pages
ISBN 978-1-934649-08-4
$12.95
• Creative Child magazine Preferred Choice Award 2011
• Dr. Toy's 100 Best Children's Products of 2011
• Moonbeam Awards Silver Medalist 2011
Buy this book
Download an excerpt
Review on Goodreads
Summer is drawing to a close, and the Zelnicks travel to the family farm in Minnesota for their vacation. Aldo's mom is eager for him to experience the things she loved as a girl…shucking sweet corn, milking cows, and gathering eggs. A week of FRESH AIR and living off the land!
But Aldo suspects that farm life isn't all it's cracked up to be...and it's worse than he feared. The rooster wakes him at dawn, the chores nearly do him in, and Timothy and the cousins—identical twin pranksters—are in cahoots against him. Plus, the creepy, old portrait of his great-grandfather Aldo (the very one he's named after) seems to be watching him from his frame on the wall…
All this without the comforts of TV or computer—because the Anderson farm is (gasp!) technology-free. In addition to an engaging cartoon story, Cahoots includes an illustrated glossary of fun C words used throughout the book, such as cacophony, colossal, and cantankerous.
Click here to watch the Cahoots book cover being created!!!

Once Aldo pulls on his overalls and grabs a pitchfork, life imitates art. Aldo and his mom strike a pose reminiscent of American Gothic by Grant Wood.
---
"You will laugh out loud – I guarantee it – the books are THAT funny. AND it is reminiscent of the Wimpy Kid series format, so I really can not say it enough – this will be a hit with those readers." – Becky Bilby, In the Pages book review blog
"This book will appeal to kids not yet ready for the middle-school life portrayed in Jeff Kinney's Diary of a Wimpy Kid series but who have aged out of the irreverent potty humor of Dav Pilkey's Captain Underpants series." — Kathleen Meulen Ellison in School Library Journal
"Aldo Zelnick is back again with another hilarious story that will leave readers anxious for even more! In Cahoots the Zelnick family takes off on a spur-of-the-moment vacation to a place with just 'the basics.' Aldo's mother grew up on a farm and now it's owned by her older brother who lives there with his wife and Aldo's twin cousins. Little does Aldo know when setting off for this adventure on the farm, but his entire family as well as his friends are in cahoots against him, leaving him stranded for days without his beloved technology. Cahoots is yet another installment in the Aldo Zelnick comic novel series I couldn't resist. From the moment I finished Bogus I was eagerly anticipating the arrival of the next in the series, Cahoots, and now am anxious to read Dumbstruck. What I discovered for the first time though while reading Cahoots was how much I really thoroughly enjoyed the "word" aspect of the series. For those of you not yet familiar with this great series, it's based around each letter of the alphabet and each book is chock full of words that start with that letter including an entire word "Gallery" to cover each. Prior to reading this book in the series I've really enjoyed it overall, but this time around I found myself soaking in the words. This might also have something to do with the fact that my four year old son was constantly asking me to explain the words to him while we were reading it together. I loved every minute of it and now I'm excited for him to eventually get to the point where he can read the series entirely on his own. This series is absolutely perfect for young readers, but I'm positive adults will fall in love with Aldo as well. His true-to-life behavior is something you cannot resist. How many of us have technology obsessed children? Even myself, with only a two and four year old, have problems regulating the amount of time each kiddos spends in front of a screen of some sort. Aldo's constant need to be 'connected' to an electronic gadget is something kids everywhere will relate to and hopefully through his story be inspired to spend a little more time with the family members we love. Not only that, but I'm positive they'll learn something, even if it's only a single new word to add to their dictionary. Without a doubt, The Aldo Zelnick comic series is one to look for! From adults to young children all who open the pages and peer into Aldo's world will discover something to love, laugh at and learn from. A hilariously illustrated graphic novel that should be enjoyed by all, Cahoots is the best of The Aldo Zelnick series to date!"— Danielle Smith, There's A Book blog reviewer
"Readers will become instant fans of Aldo Zelnick. This unique and zany comic novel will appeal to young readers because of its humor, creativity, imagination, and convincingly expressive black and white sketches. The character development throughout this story is enormously creative, and young readers will identify with the thoughts and emotions that define each character as the story evolves. When Aldo's fourth sketchbook is available in October 2011, readers will be lined up to get it!" — Susan Borges, Children's Literature