Dumbstruck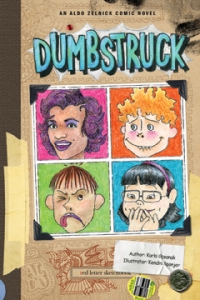 Hardcover • Illustrated chapter book
Published October 2011
For readers 7-13
AR reading level: 4.2; Guided reading level: R
160 pages
ISBN 978-1-934649-16-9
$12.95
• Quid Novi Book Design Award 2011
• Creative Child magazine Book of the Year Award 2012
Buy this book
Download an excerpt
Review on Goodreads

Poor Aldo. It's September, and he hates saying goodbye to his Slushies-and-sleeping-in summer schedule. At the store, while (horror-of-horrors) shopping for school supplies, he meets Danny—a deaf boy who will be a new student at Aldo's school. Danny challenges Aldo from day one, and it will take a lot of back-and-forth to figure out if they can get along.
But Danny's not the only new fly in Aldo's bacon grease. Aldo soon meets his cute new art teacher and finds himself doing crazy things, like losing the ability to speak when she's around and giving up recess to make posters. Embarrassed about his artistic abilities, Aldo has always underplayed his talent at school, but there's something about art class this year that spurs him to go all out in a brazen attempt to win the school art contest.
All this and Shakespeare's A Midsummer Night's Dream, Dungeons & Dragons, Dagwood sandwiches, the continuing adventures of Bacon Boy, oodles of divine D words, and so much more YOU might just find yourself dumbstruck. In a good, laugh-out-loud kind of way.
The fourth book in Aldo Zelnick's alphabetical series, Dumbstruck includes fun and challenging D words such as delectable, doofus, and defenestrate.
Click here to watch Kendra color the Dumbstruck book cover at the lightning speed!!!

Dumbstruck puts a new face (four new faces, in fact) on Andy Warhol's pop-art rendition of a photograph of Marilyn Monroe.
---
"The Aldo Zelnick books just keep getting better and better." — Mary Lee Hahn, National Council of Teachers of English committee chair, Notable Children's Books in the Language Arts
"I was very skeptical of Dumbstruck when I started reading it, because I couldn't imagine incorporating so many new vocabulary words into a fictional story without making it obvious that the author is trying to teach the reader their definitions. Karla Oceanak completely pulls it off, however. The book is just so educational, not only in the area of vocabulary, but in the arts, sports, sign language, deaf culture, and even in romance. I think some books try to incorporate gimmicks like this to trick kids into learning, but Dumbstruck makes learning all these different things into a form of entertainment that kids will be drawn to without being tricked. These books are very much like the Diary of a Wimpy Kid series, but they have a gentler touch and suit a slightly younger audience. Every library that serves Wimpy Kid fans (which, honestly, is every library, period) should have the Aldo Zelnick series on its shelves."— Katie Ahearn, children's librarian Tenley-Friendship public library, Washington, DC
"My students will be beyond excited to see another volume added to this series... A wonderful addition to the Aldo series." — Katherine Sokolowski, 5th grade teacher
"My son loves all the Aldo Zelnick books. This is the fourth in the series and he can't get enough of them! He's not a big reader, so it's a challenge to get him going on any book. But with this series, he is very self-motivated. He likes to read them and always loves the stories." — D. Vaughan
"In the wake of Wimpy Kid and Amelia's Notebooks, comes Aldo Zelnick. Oceanak has created a funny and lively hero. Aldo writes and illustrates his daily life and admits to being a little bit geeky. In Dumbstruck, part of a series, he meets a deaf student, falls in love with the new art teacher, and tries to come up with an idea for the art contest. The illustrations add to the humor. The cast of characters is a fun mix, including Aldo's friends and his eccentric grandmother who gives Aldo advice on his art. The book's Word Gallery contains only words that begin with "D" with Aldo's witty explanations. Recommended." — Maureen Mooney, Library Media Specialist at Caroline St. School, Saratoga Springs, New York, in Library Media Connection, May/June 2012 issue
"(Aldo) is an endearing narrator. His deadpan sense of humor is enjoyable even for adults. The illustrations are well-matched to the writing style: clever and well-done but retaining a childish simplicity. Each book is a fast-paced, enjoyable read, perfect for the kid (or parent) looking for a transition from comics to chapter books." — Sarah, children's buyer, Left Bank Books, St. Louis, MO (Aldo Zelnick Series: Best for Reluctant Readers, Holiday 2011 pick)
"Aldo is pretty awesome in my book." — Dr. Sharon Pajka, English professor, Gallaudet University
"The Aldo Zelnick books are edgy without being snarky, educational without being pedantic or heavy-handed, and full of celebratory humor and visual jokes." — Peggy Durbin, Otowi Station Bookstore