Glitch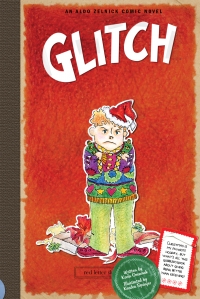 Hardcover • Illustrated chapter book
For readers 7-13
AR reading level: 4.8; Guided reading level: S (grade 4)
160 pages
ISBN 978-1-934649-25-1
$12.95
• Creative Child magazine Book of the Year Award 2013, holiday book for preteens
Buy this book!
Download an excerpt
Review on Goodreads
All the rest of the Zelnicks like Christmas a lot, but Aldo, whose plan to get presents galore may have a glitch, does not. What's this gobbledygook about giving being better than receiving? And what does the "Adopt-a-Family Tree" at the mall have to do with him, anyway? All this and Guinness World Records, holiday gnomes, a glass-blowing grandma, and the generous helpings of goofiness this A-to-Z series keeps dishing out.
This seventh installment in the series also features a vocabulary-building glossary of fun and challenging words that start with the letter G, such as gumption, gullible, and gadzooks.
Love the holidays...and food? Click here to join us in singing "the Twelve Days of Christmas: The Hungry Version"!!!

If you've read Glitch then you've met Griswold, the Zelnick family's Gnome-in-the-Home. Griz may seem like a harmless holiday decoration, but he's actually Santa's spy, keeping watch on Aldo and Timothy to let the Head Elf Himself know if the boys are being greedy or generous this holiday season.
Griswold hails from the polar ice cap on the Chukchi Sea, a quick sleigh ride from Gnome, Alaska, north of the Arctic Circle but south of the North Pole. Being made of 100% indestructible foam keeps him warm in the coldest climates. Known for their googly eyes and magical abilities to see and hear much more keenly than humans (and even move from place to place when we're not watching), Home Gnomes are much more civilized than their cousins the Garden Gnomes, yet still, from time to time, get the urge to roam...
---
"This summer my daughter picked out Artsy-Fartsy and actually made it through the whole book! She has a tendency to start a book then quit halfway through. Now's she's flying through your books faster than I've ever seen her read, and the best part is that when we tell her it's time to read she says "ok"! And she frequently reads beyond the required 20 minutes. We are THRILLED. Reading has been a huge struggle with my daughter, and this is the first time she's ever actually enjoyed reading! Thank you! We just ordered Glitch and she'll be done by the end of the month... What next? We need the whole alphabet!"
— Kristen Besanceny
"Glitch continues the laugh-out-loud adventures of 10-year-old Aldo Zelnick. The holiday season has arrived, and Aldo grows a little greedy when he comes up with a plan to get glorious gifts galore, a plan he fondly refers to as Triple G. But will he get away with it under the gaze of Gnome-in-the-Home Griswold? We couldn't stop laughing and wondering how this fun book would end. Would Aldo get all the gifts he asked for or none at all? This one was so fun to read that we read it during two bedtime story-times! We just couldn't put it down. The perfect book for the holiday season!"
— Denise B., SoCal City Kids
"Greg Heffley might be more popular these days, but I think the Aldo Zelnick books are consistently better written and better illustrated than any Wimpy Kid book. I am always impressed by the strong writing, and (Finicky and Glitch) really highlight the wonderful job Kendra Spanjer does with the illustrations. Aldo is a loveable character with realistic child-like thoughts, and his stories have lots of heart and learning opportunities, and they're lots of fun to read."
— Katie Fitzgerald, children's librarian, Washington, DC