Hotdogger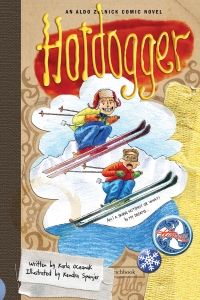 Hardcover • Illustrated chapter book
Published September 2013
For readers 7-13
AR reading level: 4.8; Guided reading level: S (grade 4)
160 pages
ISBN 978-1-934649-37-4
$12.95
Buy this book!
Download an excerpt
Review on Goodreads
Just how humdrum is 10-year-old Aldo Zelnick's life right now? So humdrum that he sets out to measure which January day will be the most boring. So humdrum that Jack and Bee succeed in getting him to try some weird hobbies. So humdrum that his recurring Hawaii dream has become way more enticing than real life. So humdrum that even unathletic Aldo agrees to downhill ski with his superjock brother, Timothy—and finds that hotdogging it on the slopes can be hazardous to your health. The humorous plot and lively drawings in this book will captivate enthusiastic and reluctant readers alike.
This eighth installment in an A-to-Z alphabet series also includes a glossary of fun and challenging H words, such as harbinger, hyperbole, and hogwash.

In the 1910s and 1920s, skiing was the new "it" activity for the world's elite, combining speed, skill, exotic locales, and sporty fashion. Poster artists—like those responsible for the advertisements shown here—were instrumental in selling the glamour of mountain getaways in Europe and North America, ushering in the age of adventure travel that is still popular today.
---
Check out this fan's video review!
http://www.youtube.com/watch?v=aGhbvBQ0bzc
"My kids LOVE LOVE LOVE this series. We received Hotdogger in the mail while we were on vacation. When we returned home, my 11-year-old saw the package, dropped her luggage in the front hall, opened it, and started reading before I could I say, 'Well, we made it home.' My 8-year-old told me the other day she has read it three times."
— Mark Suchomel
"I was pleasantly surprised by how good this comic novel was. It's the first that I've read in the Aldo Zelnick series, and I'd like to check out more now. Fully entertaining, sneakily educational, and actually funny! It features H-words throughout the book with a glossary in the back. The featured words range from common to obscure and even slang, with easy to understand definitions. I would highly recommend this book (and series) for middle school kids, especially reluctant readers." — bean, on Goodreads
"My 11-year-old son reads these books in one sitting, and if you know anything about most boys his age, they don't like to read all that much, so having him read every book in this series (several times over, in fact) is a BIG deal. He can't wait to get his hands on the next book in the series!"
— Jeff Tegge
"Karla Oceanak and Kendra Spanjer use their talents to create something worthwhile for kids. My daughter owns every one of the Aldo books and reads them over and over again: at the dinner table, in the bathroom, in the car, at the dentist, when she should be practicing piano…"
— Candace Martin O'Connor, mom and elementary school teacher
"Karla and Kendra—What a dynamic duo! We have had them in Dandelion Toys signing books and interacting with their fans, one of whom is my 12-year-old son. They are smart, funny, creative and unpretentious. This is one series we always keep stocked at the store!"
— Becca Bramhall, owner, Clothes Pony & Dandelion Toys independent toy store
"Last week a little boy came in with his mother. 'I hate books and reading!' he said. I showed the mom Artsy-Fartsy and said, 'He just hasn't found the right book yet. Why don't you try this one?' She did. Today they came back—the son a mile ahead of mom—and he ran up to the Aldo Zelnick books. He plucked up Bogus and Cahoots and said he HAAAD to have them! He told me he had read Artsy-Fartsy in one day! Wow! From hating reading to loving it—all in one book!!" —Vicki Burger, owner and bookseller, Wind City Books