Jackpot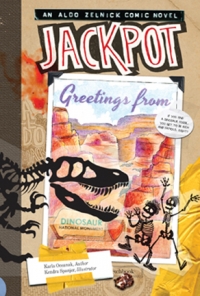 Now Available!
Hardcover • Illustrated chapter book
Published May 2014
For readers 7-13
AR reading level: 4.9; Guided reading level: T (Grade 5)
160 pages
ISBN 978-1-934649-49-7
$12.95
Buy this book!
Download an excerpt
Review on Goodreads
As they dig Aldo's sneakers out from the embankment, they unearth a humungous bone, which rock-hound Jack believes to be a dinosaur fossil from the Jurassic period.
Their hilarious quest to figure out the bone's origin and value takes them to the nearby university, the local pawn shop, the famous dino dig site a few hours away, and finally, over spring break, to Dinosaur National Monument.
Meanwhile, Aldo discovers the Indiana Jones movies, writes a book report on Journey to the Center of the Earth, starts in on a jumbo jawbreaker, and tolerates Bee, whose newfound passion for journalism could make or break him.
This tenth installment in an A-to-Z alphabet series also includes a glossary of fun and challenging "J words," such as juju, jocular, and jinxed.

Jackpot gives a sly nod to Chip Kidd's iconic cover design for Michael Crichton's Jurassic Park, only with a Torvosaurus standing in for his more famous younger cousin, Tyrannosaurus Rex.
---